"A warm welcome to the church of St Mary's, Holy Island. Our church is open daily to welcome visitors. Come and explore our history, reflect on our Christian story and faith and take a moment to enjoy the stillness and tranquillity of this sacred place."
Easter Day on Holy Island
Come and join us (virtually) in worship this Easter Day. Usually our 10:45 communion on Easter Day has up to 300 attendees packing our little church. This year we have to be closed so we've combined new and old footage to bring the experience to you online.
Happy Easter! Christ is Risen - He is Risen indeed!

Maundy Thursday on Holy Island
Coronavirus update
The Archbishops and Bishops of the Church of England have urged everyone (24 March 2020) to follow the instructions given by the Prime Minister to stay in their homes in a national effort to limit the transmission of the coronavirus (COVID-19).
But they called on the Church to "continue to pray, to love, to care for the vulnerable".
It follows the announcement by the Prime Minister Boris Johnson of sweeping restrictions aimed at slowing the spread of the virus.
It means all Church of England churches will close with immediate effect in line with the Government's instructions. There will also be no weddings or baptisms.
Funerals can still go ahead but within strict limits with only the closest family in attendance and essential physical distancing measures in place. For more information, please see: www.newcastle.anglican.org
A prayer from Holy Island: Lord, help us to be with one another…even if at a physical distance. Help us to build a kinder world. To reach out. To love and to care. To be sensible and not to panic. Help us, Lord, to hope. Because together we can. Amen.

Revd Dr Sarah Hills, Vicar of St Mary the Virgin, Holy Island.
A plea from Holy Island Parish Council...
Plea to visitors and holiday home/let owners:
Please do not come to Holy Island during the Coronavirus crisis.
Following increasing concern over the number of visitors to the island and government guidance on public health and the coronavirus, the Holy Island Parish Council has issued an urgent plea to anyone thinking of visiting the island.
Isolated from main medical services and with 60% of our community classified as vulnerable because of underlying medical conditions or age, the Holy Island Parish Council has to do everything we can to protect our residents. While the crisis continues, please follow Government advice about non-essential travelling and:
Day visitors - a simple message: Please don't come at all. All facilities are closed.
Holiday let owners – please cancel all bookings until further notice.
Holiday home owners – we look forward to seeing you again as soon as possible but, for the moment, you and we are safer if you remain at home.
Please respect our wishes and help us to look after our vulnerable residents.
Robert Coombes, Chair of the Holy Island Parish Council, said: "The Holy Island of Lindisfarne is a beautiful place to visit but we need to keep the island community safe and we urge everyone to heed the government's advice and to only travel if it's absolutely essential. Please stay away from Holy Island."

Revd Dr Canon Sarah Hills said: "A support group has been set up on the island to help residents during the crisis and the group strongly supports the message from the parish council."
Thank you.


Radio 4: Daily Service
Sarah and St Mary's Church, Holy Island were featured on Radio 4's Daily Service programme on Thurs 2 April: https://www.bbc.co.uk/programmes/b006wzfs
You can listen to Sarah's meditation and readings about the present situation, isolation and exile on Holy Island, Saint Aidan and connecting with God.

Pilgrim's Way, Holy Island, Northumberland
St Mary's Church, Holy Island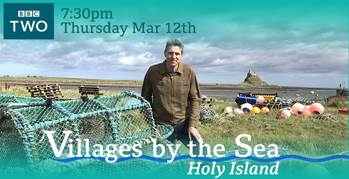 Villages by the Sea
'Villages by the Sea': 7:30pm, March 12 on BBC Two features Holy Island and some lovely images and interviews. Our episoide is 'choice of the day' in the Radio Times. You can watch it here: https://www.bbc.co.uk/programmes/m000c7m1

A Community Prayer for Mothering Sunday 2020
Let us give thanks for the mothering that gives us joy

Let us share the gifts of care and love with our neighbours

Let us take time to see beauty on our doorsteps

Let us be a community of strength and peace.

Holy Island Support Group
Dear friends,
Our aim is to support each other, to help in practical ways, and to provide comfort and advice in these trying times.
Update: 14 April:
Our Holy Island community continues to pull together as it does so well. Thanks to everyone for the many offers of help – both practical and supportive.

Churches
• Since no services can be conducted in church, online service, meditations and videos are being uploaded here and to the St Mary's Facebook page. Please do join us.
And we are still praying…if you would like prayer for anyone or a particular situation, please let Sarah Hills (St Mary's), Rachel Poolman (St Cuthbert's) or Steven Purnell (St Aidan's) know. We know that there are needs beyond coronavirus, so please do let us know if you would like prayer for anything at all. These prayer requests will be held in confidence. We are praying for everyone on the island regularly.
• A number of us are praying morning and evening prayer (individually in our own homes of course!) at 9.30am and at 5.30pm every day. Feel free to join in or to light a candle - or just to take a moment to stop and think and be quiet if praying is not your thing.
• I will be 'live streaming' the communion service at 10.45am every Sunday morning from the Vicarage. Do please join me 'virtually' if you can.
• Alison Murray, Director of Music at St Mary's is playing hymn requests (can be a form of prayer if you like). Please leave your requests on our Facebook page.
Revd Dr Canon Sarah Hills,
Chair of the Holy Island Support Group
St Mary's Church, Holy Island of Lindisfarne, Northumberland
News in brief...


Revd Canon Dr Sarah Hills, is one of the authors of a letter: Call to Action in times of Transition and Change - you can read the full letter on our news page.
For more information on our events and news, please see our Facebook page: https://www.facebook.com/pg/StMarysHolyIsland/events/
Service Times
Worship for Weekdays
8am: Morning Prayer: Monday, Tuesday, Thursday, Friday and Saturday.
8am: Holy Communion: Wednesday.
5.30pm: Evening Prayer: daily.
Sundays

8.00am: Holy Communion (BCP)
10.45am: Holy Communion
5.30pm: Evening Prayer
Please note: any changes to service times or additional services will be posted on the noticeboard inside the church.